A few considerations to keep in mind...
1: The analog output of the MDD towers is pretty horrendous: noisy and dirty with high pitched whining associated with mouse moves and windows. The best solution for this is to bypass the built-in analog audio using a sound card or USB interface. The cheapest one I can find is the
iMic
for $51. but you might pick up something used for less - or better for a similar price.
2: the MDDs are LOUD! so you won't derive that much enjoyment from your speakers unless they are able to overpower the noise of the computer. You could invest in some extension cables for your monitor and keyboard, drill a hole in the wall and put the computer in the closet or another room. Another solution may be to bypass speakers and get a pair of
noise-cancelling headphones
.
In any case... probably a good idea to wait untill your computer is set up before making a decision on what to do with sound. In the speaker department, these might be worth checking out: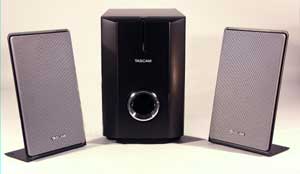 Tascam VL-S21
A local Toronto retailer has them listed at $120. A bit more than your MAX - but a small premium if they sound significantly better. and they seem to match the poise of the iMac G5 and iPod - but not the colour. Tascam markets them "to be used for home recording and multimedia" - so they should sound significantly better than what you'd find in a computer store. But as always - let your ear be the judge.
[ December 12, 2004, 12:34 PM: Message edited by: vacuvox ]