Quote:

The Lynnfield Preview: Rumblings of Revenge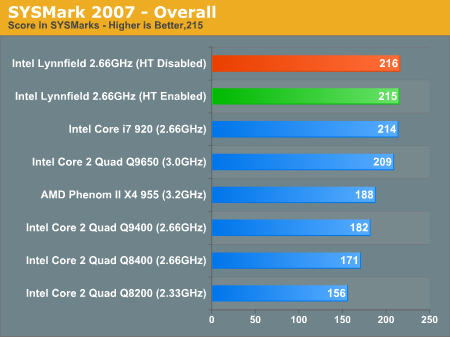 AnandTech: The Lynnfield Preview: Rumblings of Revenge
a long and very interesting article.
There is one section that covers off the turbo aspect where if an app only uses one core that core is put into overdrive.....
as long as the temperature is maintained within an envelope of 95 degrees the processor array with flex for optimal use of the multiple cores for the particular application.
If those Quad cores get into the lappies then there is a lot of range of trade of power versus battery life to be engaged. Pro useers will be happy.
Some zingy iMacs looming a year out.
Here is the heart of the jump....flex power
Quote:

There's also a lot of flexibility in Intel's strategy. Intel could deliver lower clocked Lynnfields and enable HT to be competitive at lower price points. I suspect that the real strength of Lynnfield is in its turbo modes; they will give it the advantage of delivering maximum performance regardless of how threaded your workload is.
plus very low power consumption at idle.
__________________
In Australia and the web site is out of date.
Lots of good deals on Retinas, previous high end MacPros and current MacPro 6 core bundles in stock.
[email protected]