We've set aside one of the new towers for clients to "taste" for a couple of days in their own work environment.
Has been popular tho supply of the 6core and up is frustrating.
If you are curious and in the GTA contact us about a test run.
Be warned you have no choice but to be on Mavericks.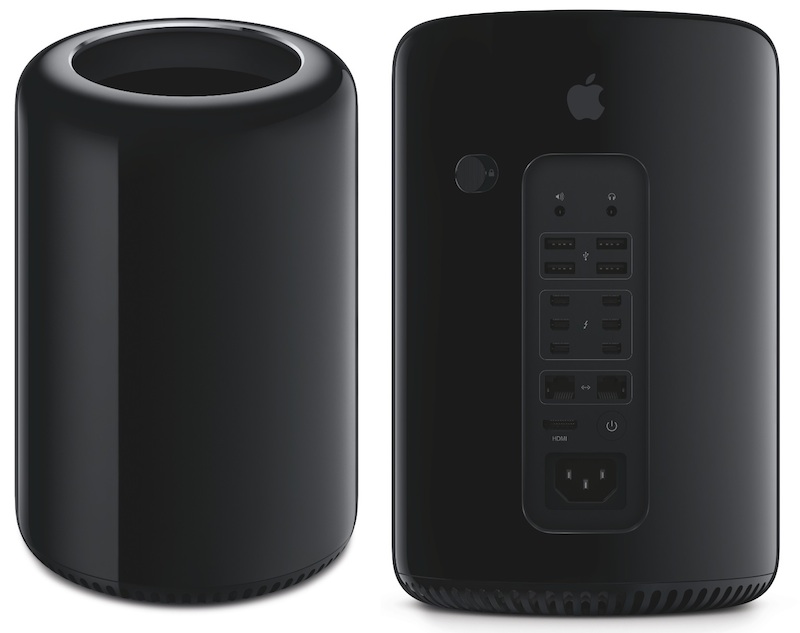 They ae pretty slick machines tho the older MacPros are still exceptionally popular.
For some users it's just what is needed and with the concentration on GPU acceleration in some apps....the gain is substantial.
This client was trying a 2.6 Retina 2012 - no slouch on it's own.
Geekbench 3 (64): 12428
Then tried the Quad MacPro.
Geekbench 3 (64): 14601
not even 20% more processing but his rendering times dropped in half or more thanks to the big gun cards.
We don't think the new tower will have as wide an application range as previous but no question for some it's terrific - we were already talking with some about racks and many like the portability - big power in a small footprint.
Quote:

Vast difference. Did same rendering tests as the other day. Times were less than half. More importantly, the GPU renderings actually looked amazing. So full settings GPU renderings that look great in under 30 seconds is something I can definitely work with. And to drop the anti-alias setting a bit to have almost instantaneous renderings for client meetings still produces fantastic images.
He's an architect and takes the machine to clients and makes changes in real time so the extra speed makes his presentations flow.
We were however surprised to note the Haswell 2.6 retina has the same benchmarks
Geekbench 3 (64): 14596
as the quad macpro ...a very decent GT750m 2 gb video card
twice the drive space ( unreal fast 800 mps ), more ram and a gorgeous Retina screen for
$200 less
and will drive twin big screens as well.
We think the entry tower should really be at $2500.
The 6 core tho looks to be good value ....40% more speed, more ram and better video cards for $1k more - what's not to like.
Geekbench 3 (64): 20626
Apple pretty much has it's ducks in a row from Retina 13 up through the towers tho the top end towers per usual are a lot of money that is not proportional to the gain
The all around media pro winner we think is the 2.3 Retina or the 2.6 Retina. Big power, brilliant connectivity and screen and very easy to handle.
With a 4k screen and Applecare the 2.3 Retina is under $3500.